Наши друзья из г.Скоки (Илинойс, США) — синагога Temple Beth Israel отметила свое первое столетие. Мы поздравляем их с этим солидным юбилеем и желаем дальнейших больших успехов! Мир вашему дому!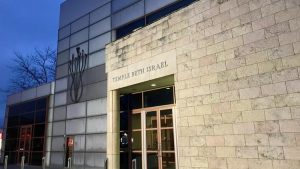 In celebrating Temple Beth Israel's centennial birthday, leaders said it was important to recognize how far the synagogue has come from its earliest days in Chicago to its home in Skokie.
Rabbi Michael Weinberg said one of the future goals of the synagogue is to reach even more of the Jewish community, but he also recognizes how Temple Beth Israel continues to thrive when not all religious institutions have.
Its membership of about 400 households has held steady for quite some time, Weinberg said.
«We like that because, like that old television program 'Cheers,' we're a small enough community where everybody knows your name,» he said. «People have long relationships with each other and care about each other.»
Leaders said they had been thinking about, discussing and planning how to celebrate the synagogue's 100th birthday for some time. Several activities were scheduled both at the end of 2017 and this year, but a birthday party Wednesday — exactly 100 years after Temple Beth Israel was incorporated — marked the big event.
«I would say what has characterized us for these many years is being a caring community of meaning,» Weinberg said. «Human beings in general create a community, but we're different than the country club or Starbucks because we're not just a place where people gather and run into other people. We're not like a virtual community on-line, but we are a community of meaning.»
According to Temple Beth Israel leaders, the seeds of the synagogue were planted in 1917 when a dry goods merchant discussed with a deli owner beginning a new congregation.
Kimball Hall at Lawrence and Kimball avenues in Chicago was rented for the High Holidays. A month later, according to the synagogue history, the Jewish community came together to decide whether the new Jewish organization would be Orthodox or Reform.
In the end, two organizations were formed — Temple Beth Israel and the first Orthodox temple in the neighborhood — Beth Itzchok.
Through the years, Temple Beth Israel has been located in Albany Park, at Howard Street and Crawford Avenue and finally, in 1989, at 3601 W. Dempster St.
Weinberg, who became rabbi in 1987, said the building was a drive-through bank. A second floor was added to the building, «which most days is adequate for us,» he said. Services for High Holidays are held at Evanston High School.
Visit Temple Beth Israel on a given day and it's usually brimming with life — through school classes, myriad activities, socially conscious events, organizing, art programs and more.
Leaders say Temple Beth Israel has continued a long-standing tradition of community involvement and interfaith cooperation.
For the past 28 years, they said, it has partnered with Second Baptist Church in Evanston as a co-sponsor of the Tuesday Soup Kitchen Lunch Project. It also participates in the Niles Township Clergy Forum's annual Interfaith Thanksgiving Service.
«I never do the same thing two days in a row,» said Lori Sagarin, director of congregational learning. «Every day is new. There is always the next project coming up and the next thing that is going to force me to think in a creative way.»
She said she left North Shore Congregation in Glencoe to come to Temple Beth Israel 23 years ago — knowing «that was not a move most people would have made.»
«But I really get the opportunity to do new and exciting and interesting things that I know I never would have done anywhere else,» she said.
Children at the synagogue have been collecting 100 items such as beads, coins, buttons and paper clips to be inserted into 100 mason jars for the upcoming centennial celebration.
Art teacher Becky McFall said she came up with the idea so that everyone — even the youngest members — have some sense of just how long 100 years is.
«This helps them get the idea that 100 years is a long time,» McFall said. «They have been collecting things and now we have been putting them into jars. They'll be ready for the party.»
No matter where you turn, members say the longevity of the synagogue is based mostly on community and how people come together.
«The people here just feel like family,» said McFall, who attended Temple Beth Israel as a girl. «It's always welcoming and warm here.»
Temple Beth Israel President Jon Schneider said every Friday night, members talk to others about their experiences or their «personal journey.»
«From my perspective, it's always been a close group,» he said. «I think that's how we have built our community. This has been a meaningful part of our lives.»
«To be part of anything that's 100 is such a unique opportunity,» Sagarin said. «I don't think I've ever been part of anything that's been 100 — not even family members. The sustainability of this community that started so modestly is really something to celebrate.»